The Energy Port of the Americas
The Port of Corpus Christi has been in operation since 1926 and has since become the largest port in the United States, based on total revenue tonnage, and the nation's largest energy export gateway. The Port boasts a 54-foot-deep channel, three Class I railroads – BNSF, KCS, and UP – and a location adjacent to connecting Texas highways Interstate 37 and Highway 181. With all these assets at our disposal, our mission is and always will be to leverage commerce to drive prosperity for Corpus Christi and the coastal bend..
Port Vision Statement
To be the energy port of the Americas.

Port Mission Statement
Leverage commerce to drive prosperity.

Our SEAPORT Values
Safety
Empowerment
Accountability
Preparedness
Optimism
Respect
Teamwork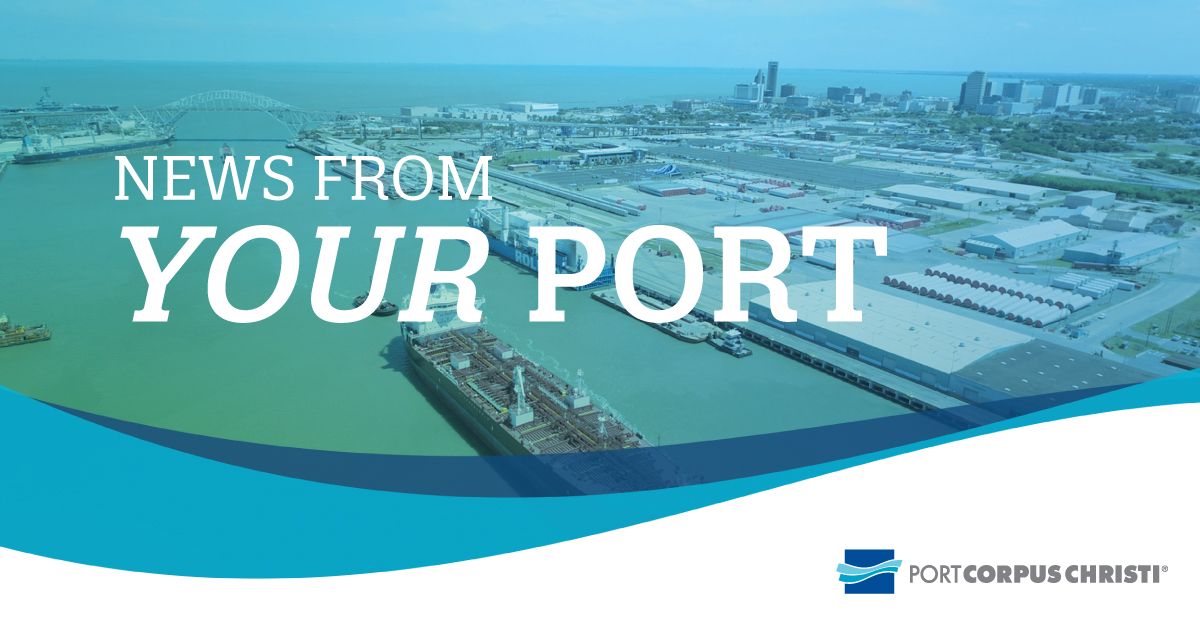 History and Highlights
U.S. Congress authorizes Corps of Engineers to conduct feasibility study for a deep water port.
Study commences. Major Adams recommends Corpus Christi to Roy Miller, a port builder.
After going through election, the Port of Corpus Christi was born
U.S. Congress authorized channel construction of 25 ft in depth and 200 ft bottom width.
Port Corpus Christi opens with statewide celebration. First Port business was Aransas Compress Company – cotton.
With the need for two more docks to handle increasing business, the Port goes to the public with additional $1.5M in bonds.
The channel was deepened to 30 feet for maneuvering basin inside the breakwater (for better passage through the narrow Bascule Bridge). First industry comes to Corpus Christi – Southern Alkali Corporation. Oil fields first discovered in the area. Industrial Canal completed (mile and a half channel extension to Avery Point, the location of Southern Alkali Corporation's new plant). First refinery, Taylor Refining Company, comes to Port, leading to construction of more oil docks.
Major shift from cotton to petroleum and petroleum products. Channel and turning basin deepened again to 32 ft.
Extension of channel to Tule Lake is authorized
Corn Products Refining Company joins Port business near Avery Point as Coastal Bend becomes known for its grain and sorghum production. A new channel is dredged and the need for a grain elevator arises.
Port Corpus Christi's "Bascule Bridge Bottleneck" comes to a head due to volume of ship and vehicular traffic, leading to its removal
Reynolds Metal Company announces intention to construct aluminum reduction plant at the Port
Port channel across the bay is widened from 200 to 400 ft
Grain elevator construction begins in 1952 and officially opens in 1953 after a cost increase due to the Korean conflict.
Dredging of channel extension to Tule Lake, approved in 1938, is completed. Channel extended through Driscoll Foundation lands, turning basin, and oil docks constructed at Viola for Suntide Refining Company, located west of Tule Lake Basin
Grain elevator is so successful that it requires two rounds of enlargement
Lightning strike causes explosion in grain elevator, damaging the headhouse and killing a night watchman
After one year of repair, the grain elevator is back in operation
Hurricane Celia badly damages Aransas Compress, the very first facility built at the Port. Owners intend to shut it down unless it can be sold.
Revenue bonds issued to purchase damaged compress and put it back into operation for public use
Dredging begins on first channel section extending from Gulf to Ingleside cutoff to La Quinta
Dredging commences to give La Quinta 47 ft. depth
Dredging begins to extend this channel depth from La Quinta to one-mile outside of breakwater at Corpus Christi
Bonds issued again to enlarge the compress facility and it's renamed as Corpus Christi Public Compress
Grain elevator experiences another explosion, causing major damage and several deaths/injuries. Reconstruction begins.
Grain elevator reconstruction is completed and dedicated as the William E. Carl Terminal. San Patricio County representative added to the Port Commission.
Dredging commences on Inner Harbor. Foreign Trade Zone #122 is established.
Homeport / Naval Station Ingleside Opens
Dredging of the channel from the Gulf to Viola Turning Basin to 47 ft., approved by Congress in 1968, is completed – giving Corpus Christi the deepest waterway of any Port in the Gulf at that time.
Port enacts diversification efforts to attract new cargoes like steel products, project cargoes, military equipment cargoes, and more.
Marion Luna Brem is first woman appointed to the Port Commission
Flint Hills Resources Opens
Solomon P. Ortiz International Center Opens
Historic MOU is signed with Cuba. And the first military equipment shipment leaves to Iraq
Gulf Compress relocates to La Quinta. Port Police & Security is established.
Whataburger Field Opens on port property
Wind turbines & components begin moving through the port.
The Port's Environmental Management System obtains ISO 140001 certification. The Joe Fulton International Trade Corridor opens.
The Tule Lake Lift Bridge is demolished.
Diversification efforts pay off after renovations to Northside and Southside General Cargo Terminals, making the Port ideal for handling a more diverse array of cargoes
The Port hosts tall ships from Chile, Mexico, Uruguay and the United States. The event, Sail South Texas 2010, was three days of cultural celebration for the community.
TPCO breaks ground! And M&G Chemicals announces a new facility in Corpus Christi!
La Quinta Channel Improvement Project receives federal funding in May and breaks ground in September.
The Port signs a sales agreement with Oxy Ingleside for the former U.S. Naval Station Ingleside Property
voestalpine breaks ground in La Quinta
Cheniere receives all necessary permits to begin construction of LNG facility on La Quinta.
Phase I of the Nueces River Rail Yard is complete.
First U.S. Crude Oil Export in 40 years sails out of Corpus Christi on December 31, 2015
Harbor Bridge Replacement Project moves forward with commitment from Port. Groundbreaking on August 8.
Groundbreaking for Oil Dock 15 – 1,100-foot dock with 52-foot depth
Panama Canal Expansion opens June 2016.