PROGRAM OVERVIEW
In January 2004, the Port of Corpus Christi Authority developed and implemented an Environmental Management System (EMS) through a Port EMS Assistance Project. It was a partnership effort with American Association of Port Authorities (AAPA), U.S. Environmental Protection Agency (EPA), and Global Environment & Technology Foundation (GETF) for eleven ports to develop an EMS modeled after the ISO 14001 Standard. The development and implementation took two years to complete and since that time PCCA has been maintaining an award-winning EMS program. In 2007, Port of Corpus Christi received ISO 14001 certification of its EMS program and continues to maintain this certification of our program. Port of Corpus Christi certified to the ISO 14001: 2015 standard immid 2016.

What is an Environmental Management System?
An EMS is a set of management processes and procedures that allow an organization to analyze, control, and improve the environmental consequences of its activities.

Environmental Management System
An Environmental Management System (EMS) is a framework that helps an organization achieve its environmental goals through consistent review, evaluation, and improvement of its environmental performance. The EMS helps PCCA address regulatory requirements and compliance obligations in a systematic and cost-effective manner. The EMS also helps reduce the risk of non-compliance and can improve the health and safety practices for employees, port users, and the general public.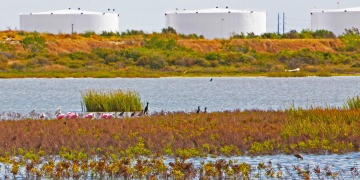 Customer Environmental Performance
Consistent with the Port's Environmental Policy, PCCA requires all Port users and tenants to comply with all federal, state, and local regulations, including PCCA's tariffs, rules, and regulations that are applicable to the operations and activities they conduct. To accomplish this goal, PCCA has established a Tenant Audit Program. The tenant audit program allows PCCA staff to gain a better understanding of each lessee's operations and activities and what measures the lessee is using to comply with applicable regulations. PCCA also promotes innovation in compliance and encourages environmental compliance that is demonstrated through sustainable programs such as implementing an EMS at the lease site. PCCA is developing a scorecard system to be able to recognize those tenants whose environmental programs are cutting edge and go beyond regulatory requirements.

EMS Stevedore Workshops
This series of workshops will help you comply with the new tariff requirements. All workshops will be held at the Solomon P. Ortiz Center 402 Harbor Drive 8:30am – 5:00pm
4th workshop in series | Fri., Nov 11

Best Management Practices
Companies working in the port area are responsible for utilizing the appropriate Best Management Practices for their specific operation.