Growing Rail Traffic
Port Corpus Christi is served by three Class I Railroads, Burlington Northern Santa Fe (BNSF), Kansas City Southern (KCS), and Union Pacific (UP), along with a short-line operated by Genessee & Wyoming and the Port's own rail line, Corpus Christi Rail Terminal. With directvessel-to-rail loading and unloading, and near-site access, railroad is an attractive option for moving cargo in and out of South Texas.
With an expected rise in rail use, Port staff have developed a master rail plan to accommodate railcar movements.

Download the Rail Master Plan (PDF)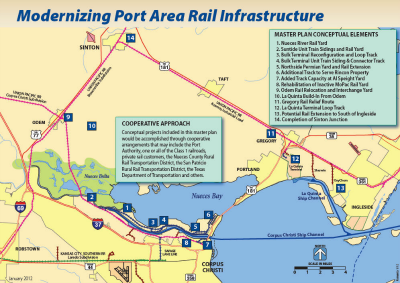 Nueces River Rail Yard
Part of the Master Rail Plan includes a new rail interchange yard, the Nueces River Rail Yard (NRRY). Phase I, which opened in April 2015, provides an interchange yard of four parallel tracks with combined length of 15,400 feet and the ability to form 150-car unit trains. Phase I was a $17.8M construction project funded by $10M from the federal TIGER grant, with remaining funds covered by Union Pacific, Kansas City Southern, Burlington Northern Santa Fe, Genesse Wyoming, and Port Corpus Christi. Commencement of phase II construction is in progress and is funded by a $22M grant from TxDoT and $6M from Port Corpus Christi. With a scheduled completion in early 2017, phase II will feature one 10,000-foot main track plus seven additional unit train storage tracks of at least 8,000 feet each.