Built on Partnerships
Corpus Christi is one of the best places to live and work. We believe in big business, with a coastal style.
Port Corpus Christi is strategically positioned on the Texas Gulf of Mexico, just 150 miles from the Mexican border, and the nation's largest inland port on the U.S. – Mexican border, the Port of Laredo.
The port is flanked by Interstate Highway 37 and U.S. Highway 181 providing quick access to the entire inland United States.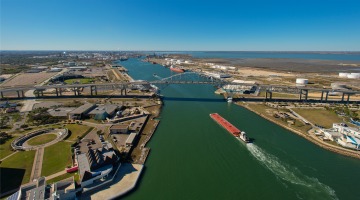 Port Corpus Christi is part of the Intracoastal Waterway, reaching from Brownsville, Texas all the way up to the U.S. Atlantic Coast to Boston, Massachusetts.
Corpus Christi's warm and dry climate make Port Corpus Christi ideal for year-round operations. The region is surrounded by nine beaches, hunting and fishing, water sports, on-the-water eateries, and the market is supplied with a workforce trained right in our backyard at Texas A&M University-Corpus Christi, Texas A&M University-Kingsville, and Del Mar College.
Join us. We're built on partnerships.