Media Advisory: Port Corpus Christi Presents RAPPORT – San Antonio
Mar 15, 2018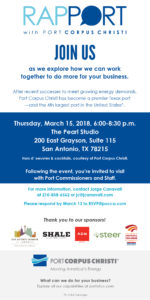 Corpus Christi, TX, USA – Port Corpus Christi is a major economic driver in South Texas, and the epicenter of an energy and industrial development renaissance. RAPPORT is your invitation to be a part of it. On Thursday, March 15, 2018, Port Corpus Christi staff and Port Commission members will host RAPPORT San Antonio at The Studio at The Historic Pearl, 200 East Grayson, Suite 115 from 6:00 to 8:30 p.m.
The Port began its new town-hall series, RAPPORT, in 2017 as an exchange of ideas, and an opportunity to learn more about what is going on at the Energy Port of the Americas. Thus far, forums were held in Portland, Texas, in Corpus Christi at the Del Mar College Center for Economic Development, and on North Padre Island. Now, Port Corpus Christi invites the San Antonio business community to join us as we explore how we can work together to do more for your business. Learn more about RAPPORT here.
WHAT: RAPPORT with Port Corpus Christi
WHEN&WHERE: The Studio at The Historic Pearl
Thursday, March 15, 2018
6:00-8:30 p.m.
200 East Grayson, Suite 115
San Antonio, Texas 78215
Several Port customers based in San Antonio support Mexico's fast growing market for diesel, gasoline, and other fuels. The energy reform in Mexico creates opportunities for producers and exporters of refined petroleum products as well as providers of effective marine and railroad logistics solutions to customers in Mexico. Similarly, steel industry companies with offices in San Antonio are exporting commodities from Port Corpus Christi via railroad to the steel industry in Mexico. This regional economic partnership is a good example of NAFTA success.
South Texas is a major supplier of fuels through a vast railroad and pipeline network, and by water to Mexico's demand centers. Mexico is San Antonio's second largest trading partner for exports. Oil and gas products top the list of exported commodities.
RAPPORT San Antonio is sponsored by the San Antonio Hispanic Chamber of Commerce, STEER, San Antonio Chamber of Commerce, AEM Energy Committee, and SHALE Magazine.
Join us for RAPPORT, San Antonio!
About Port Corpus Christi
As the leading U.S. crude oil export port and a major economic engine of Texas and the nation, Port Corpus Christi is the 4th largest port in the United States in total tonnage. Strategically located on the western Gulf of Mexico with a 36 mile, 47 foot (MLLW) deep channel, Port Corpus Christi is a major gateway to international and domestic maritime commerce. The Port has excellent railroad and highway network connectivity via three North American Class-1 railroads and two major interstate highways. With an outstanding staff overseen by its seven member commission, Port Corpus Christi is "Moving America's Energy." http://www.portcorpuschristi.com/
###