Breaking Ground – Construction of 1,100 foot dock with 52 foot depth set to begin
Jul 15, 2016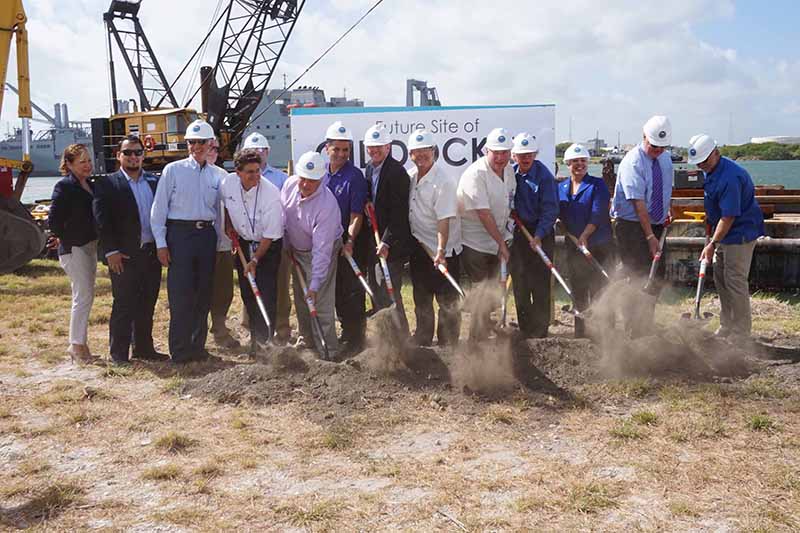 With a ceremonial turning of the dirt a new project has broken ground at Port Corpus Christi.  The commencement of construction on the new Oil Dock 15 is made possible through a Martin Midstream and Port Corpus Christi partnership. 
The big ship ready dock will feature an 1,100 foot slip, 52 foot depth, and load at a rate of 30,000 barrels per hour.  Oil Dock 15 will accommodate big ships for exporting large volumes of oil from Corpus Christi. 
Marking the momentous occasion,  the groundbreaking ceremony was well attended by Martin Midstream representatives, regional professionals and community members, many regional delegates, and Port Corpus Christi Commissioners and staff.
Regional media provided great coverage on the Martin Midstream/Port Corpus Christi Oil Dock 15 Groundbreaking Ceremony.
Press Release – Port Corpus Christi & Martin Midstream Partners Celebrate the Groundbreaking of Oil Dock 15
Caller Times – Port breaks ground on new oil dock
KRISTV – Port Corpus Christi makes historic groundbreaking after crude oil export ban lifted
kiii-tv – Groundbreaking Held for New Dock at Port of Corpus Christi