$20 Million for Efficiency in Commerce and Trade for Texas Ports
Mar 01, 2016
Corpus Christi, TX, USA – Citing the continued contribution to the vitality of the state's economy by Texas ports, the Texas Transportation Commission approved $20 million in funding for road improvements at Texas ports. Program funds will directly benefit road improvement projects at Port Corpus Christi.
The Port's construction project includes widening a portion of the Joe Fulton International Trade Corridor where it connects with Mike Carrell Road. Mike Carrell Road construction will improve the safety and access of traffic traveling to the new M&G Chemicals facility, and the new Port Corpus Christi Public Oil Dock 14. Approximately half of the cost for these road improvements are covered under the Texas Transportation Commission approved funding.
Nine Texas port projects will receive a share of the $20 million to use in combination with local and other funding sources. These projects are included in the Unified Transportation Program recently approved by the commission and funded from Rider 48 of the General Appropriations Bill of the 84th Legislative Session, which provides $20 million for port capital improvement projects recommended by the Port Authority Advisory Committee. Port Corpus Christi Executive Director, John LaRue is Chairman of the Port Authority Advisory Committee.
"Each of the projects approved will have a benefit on its local region and contribute to the entire Texas Transportation system," said Chairman John LaRue, Port Authority Advisory Committee. "The Texas ports are pleased to partner with TxDOT to improve the movement of commerce and trade thereby creating additional economic opportunities for Texas."
"Texas ports are our gateway to international trade," said Texas Lt. Gov. Dan Patrick. "The facilities in our ports are crucial and so are the roads and bridges that connect them to the rest of our country. These projects address those links between the ports and our highways, and help maintain our prominence in worldwide commerce."
"Viewed individually, these nine projects are relatively small, but the impacts they have on our state's economic vitality are very significant for the ports that they serve and the state of Texas," said Jeff Moseley, vice chairman of the Texas Transportation Commission.
Information on the specific projects can be found in the Unified Transportation Program document at txdot.gov.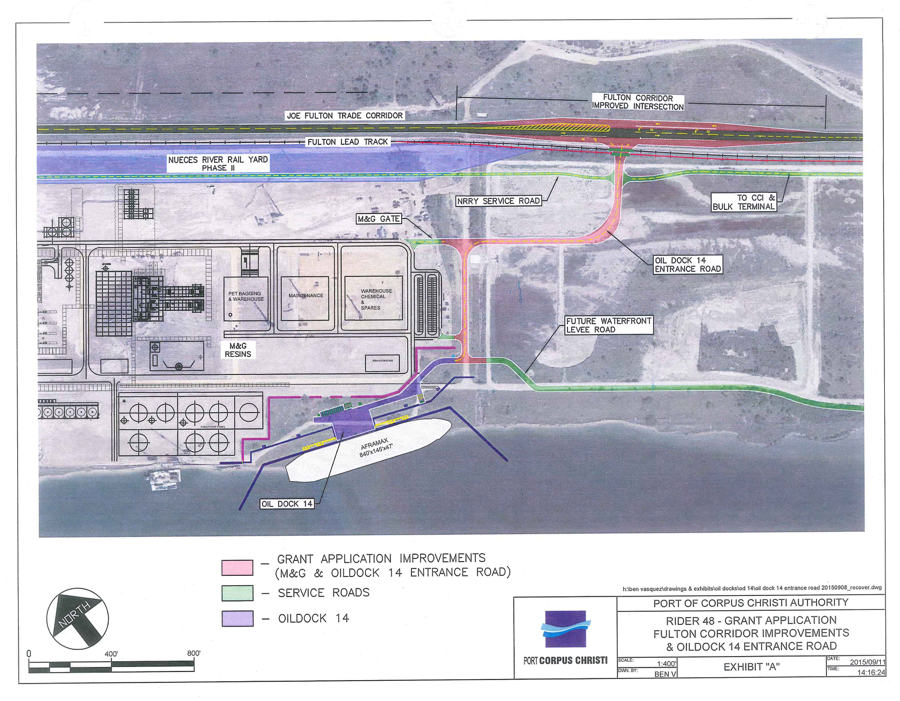 Improvements at Port Corpus Christi to benefit from funding are indicated in red in the attached illustration.
For more information, Contact:
Rosie Collin
Interim Director of Communications/
Director of Community Relations
Dir. Line: 361-885-6115